Restorative Dentistry Peterborough - Dentist in Peterborough
If you suffer with discolored, missing, worn or damaged teeth, you know how everyday things-like eating lunch or even smiling at a friend-can be painful, uncomfortable, or even embarrassing. This can have negative effects on your social and professional life, as your smile is often one of the first things people notice. With Dr. Louis Diamandakos & Associates, there is no reason why you should be held back socially and professionally by your smile. Your smile can be bright and stunning, given the right course of treatments and time. We will guide you throughout the process, ensuring you understand and agree with our recommendations.
Comprehensive restorative dentistry, or full mouth restoration, can resolve decay, discoloration, misalignment, gaps or any other aesthetic problem. It may also be needed in cases of emergencies and injury, which can never be entirely avoided. No matter the case, we can help you fully restore your smile through modern and efficient cosmetic and restorative dentistry.
To give you a full mouth restoration, Dr. Louis Diamandakos & Associates will use a variety of restorative dentistry like porcealin veneers, dental crowns, dental bridges or teeth whitening to bring your smile to a healthy, beautiful state. We can help you reach the ideal state of oral health if you are truly committed to the work. Depending on your specific situation, you may also benefit from various procedures like periodontal or endodontic therapies, or even dental implants and more advanced dental work. We can offer whitening treatments, therapy for bad breath and even non-surgical options, like root planning and scaling, to resolve gum problems. Should we recommend any of these, we will explain them to you in detail to ensure your confidence.
Contact us today or visit our Peterborough office to book your consultation with Dr. Louis Diamandakos & Associates. We will be happy to answer any questions you might have on cosmetic restorations or general dentistry.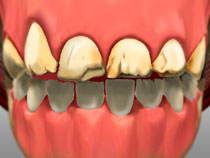 Last Updated On
2021-10-27