Dental Bridges in Peterborough
Missing teeth can create serious oral health problems if the space they leave is not filled. The gap left by a tooth can give you trouble when speaking or chewing, or could create a strain when biting. The alignment of your teeth and the strength of your bite can both suffer, requiring corrective treatments.
Dr. Louis Diamandakos & Associates can help you avoid the oral health problems that can come from having a gap in your smile. We can fill these gaps between teeth by providing you with a strong, natural-looking artificial teeth. A bridge implant is placed in the gap between two teeth, so it not only replaces your missing tooth but strengthens those around it.
We will first make sure that a dental bridge is the best option for you by carefully examining your case, determining the best treatments and ensuring that you understand and agree. If you are a good candidate for a bridge, we can place your new artificial tooth onto an anchor and between your natural teeth. Once completed, you will have a renewed chewing surface, a stronger smile and no unsightly gaps. You will be able to smile and speak confidently in public and professional situations. We offer our Peterborough patients modern and durable materials like porcelain which will give a very natural looking finish.
Dental bridges are semi-permanent - they can only be removed by a dentist but should last a very long time with proper care. They are comfortable, made to match the shade of your natural teeth and proven to strengthen teeth.
We are happy to answer any questions you might have about bridges or any other cosmetic procedure which might help in restoring your smile and overall oral health. Contact or visit us today to book your appointment with Dr. Louis Diamandakos & Associates today!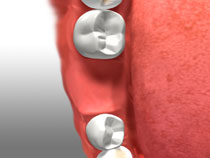 Last Updated On
2021-10-27